Roku changed the entire landscape of TV advertising.
It's the first change since the introduction of the television. It's monumental, industry-changing, too big for Wall Street to grasp, and Roku is going to win from it.
According to eMarketer, around 56 million households in total will have canceled cable or satellite TV subscriptions by 2023.
Approximately 1.7 million consumers cut the cord in Q3 of 2019 alone. Roku research indicates that roughly 50% of U.S. cord cutters are Roku customers, and cord cutters who choose Roku products are highly satisfied with the decision and extremely unlikely to consider returning to a traditional pay TV subscription.
Here is a chart to give the text some graphical context. Here is the cord cutting trend, overall:
Number of households not paying for traditional TV services in the United States from 2019 to 2023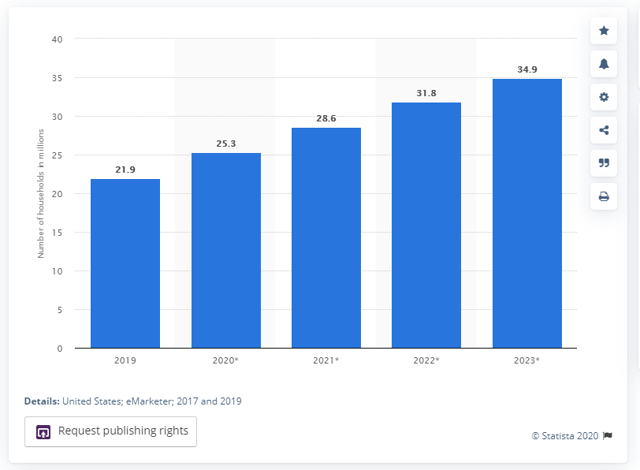 (Source: Statista)
Roku is telling us that 'roughly 50% of U.S. cord cutters are Roku customers.'
Another way to look at this is through the other end. Here is a chart of cable subscribers in the U.S. Note that downtrend – the households leaving are the ones that are 'cord cutters.'
Pay TV penetration rate in the United States from 2010 to 2019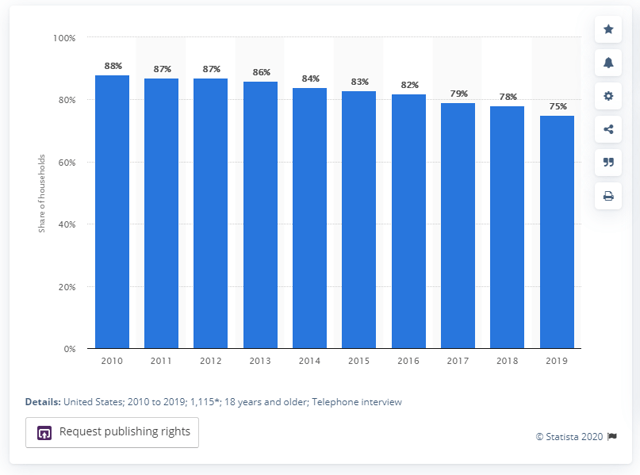 (Source: Statista)
Again, Roku is taking 50% of these cord-cutters onto its platform.
There is a monstrous disconnect between the advertising dollars that go to linear TV (cable TV) and streaming TV (cord-cutters, et al.).
Please read these numbers carefully, and even a few times over, to really grasp our thesis. Here it is:
Over the Top (OTT aka streaming non-cable) accounts for 29% of U.S. TV viewing, but so far has only captured 3% of TV ad budgets. Stop right there.
Read that line again.
There is an order of magnitude disconnect between the ad dollars flowing to streaming video versus linear TV based on viewership hours. In order to make an argument that the number will close, that is, the amount of advertising money spent on OTT will reach the viewership hours, we must show that advertising on OTT is at least as effective as cable.
This is exactly what happened with social media before advertisers and Wall Street caught on that 'traditional advertising' paled in comparison to the monstrous accuracy of Facebook (NASDAQ:FB) and Google (NASDAQ:GOOG) (NASDAQ:GOOGL).
We are seeing this same cognition happen again, but this time, we caught it early.
So, to be clear, we are not making the argument that OTT commercials are as effective as standard Tv ads. No.
We are making the argument that OTT commercials are more effective than linear TV. Yes, just like social media made the same claim and proved it. (We are not saying, nor never would that a Roku ad will ever be as good as a Facebook ad – but that's not the bar – the bar is linear TV.)
And here are two factual data points to defend this thesis.
Defending the thesis part 1 that the proportion of hours viewed will translate into proportion of ad dollars spent: Recall that Magna Global did its own research on the efficacy of Roku ads, and they found this:
That's right. It's not that the ad money should simply even out – that is, hours spent watching OTT versus linear TV should therefore dictate ad spend – no, it's that it will be larger to the increased effectiveness of an OTT ad.
Defending the thesis part 2 that proportion of hours viewed will translate into the proportion of ad dollars spent: On October 9th, we wrote Roku Simply Stunned the Industry So Much that the Industry Doesn't Get it, Yet.
This is what happened: Roku changed the entire landscape of TV advertising.
It's the first change since the introduction of the television. It's monumental, industry-changing, too big for Wall Street to grasp, and Roku is going to win from it.
Roku invented a new ad unit – a pop-up ad that aids the advertiser, so a TV ad turns into a web ad. Yes, a TV ad you can click. This is world-changing for the TV industry – it really is. It also follows through on our first ever call on Roku – that it is the Facebook of Television.
For now, when an advertiser spends on linear TV, they have terribly inaccurate measures of how many people saw the ad, and virtually, no measure of how effective it was at converting into a sale. You can think for yourselves – when did you see a TV commercial, pick up your phone or go to your computer and buy something?
And, when or if you did that, how would the advertiser know it was from the TV ad? They don't is the answer.
If you ask the same question to a Facebook or Google advertiser, they could answer that question precisely, to the penny per account, to the second. With Roku's new ad unit, they just moved further from the "we have no idea how effective our TV ad is," to the Facebook/Google version of "we know exactly, to the second, to the dollar, to the person, to the location."
And so, how large is this market that is totally lopsided with respect to hours viewed versus ad dollars spent? It's enormous: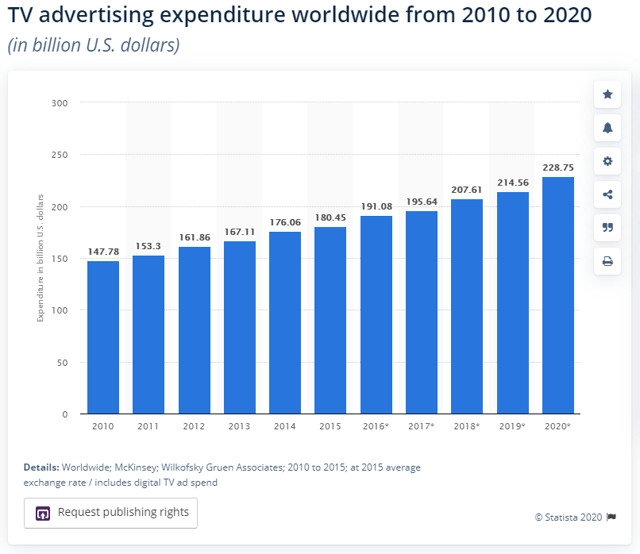 (Source: Statista)
Yes, nearly a quarter trillion-dollar worldwide market that is going to move, en masse, to streaming. The portion of that in the United States is forecast at about $75 billion.
As Roku points out, 50% of cord cutters go to Roku.
Roku gets more viewing time, better delivery of ads, better technology, and a growing account base rather than shrinking one (cable TV is dying).
Now, to our third reason where Wall Street has it wrong, we turn to hours viewed. This idea of streaming video, or if you prefer OTT (all the same thing, just different names) is not a wing and a prayer thesis, it is factually larger than linear TV.
For the first time ever, streaming video services are more popular than pay TV services.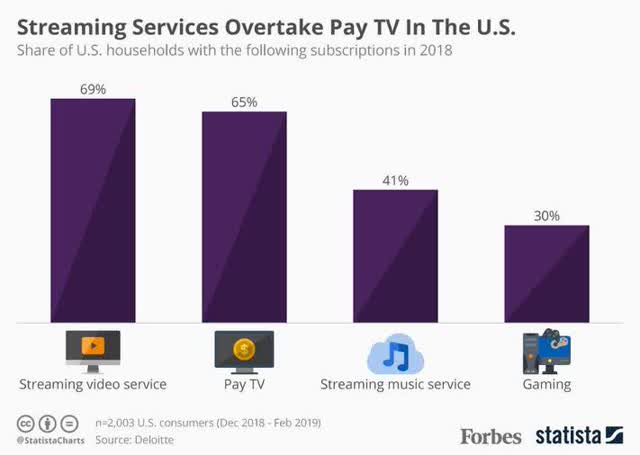 (Source: Statista)
Yes. it is not an "up and coming theme," it is now. It is today. It will grow in the future. Stop listening to Internet trolls and Wall Street analysts that don't see it.
You don't even need my opinion. You too can use facts.
Deloitte and Touche did the research, and they had more to say.
In another ominous sign for cable TV, 88% of millennial households reported a video streaming subscription compared to just 51% for pay TV.
So, we have not only a secular shift that is accelerating, but a generational shift that is far more abrupt than the mainstream media has been covering. At some point in the future, it is our belief that for every household in the United States that consumes video of some sort, it will have a streaming service.
So, while Wall Street crows, just a little, about valuation, stop it. Either you see facts and believe them to be true and are able to draw your own conclusions from them (not my conclusions, your own conclusions) or you are unable. That's it.
Roku will deliver a little over $1.5 billion in revenue for full-year 2020, after raising that guidance number virtually every quarter, but who cares?
I don't care about $1.5 billion in revenue for Roku, I care about the $228 billion stuck in linear TV when viewership is dropping, cable TV subscriptions are dropping, advertising technology is dead.
I care about where viewers are coming, where viewing hours are exploding, where advertising technology is at its early stages and already far outpaces linear TV performance.
I care about $4 billion in revenue. I care about $10 billion in revenue.
This is the growth in the number (in millions) of streaming TV platform units in use in the United States: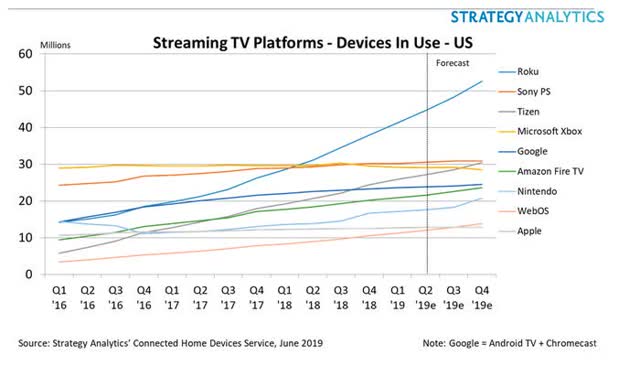 That chart (above) was first introduced by CML Pro more than five months ago. One month later, that same chart was 'borrowed' by Roku itself in its own earnings letter to shareholders.
And, further yet, this entire diatribe isn't even half of the Roku story.
Worldwide – International
While we have a nice-looking bar chart for the number of streaming OTT subscribers in the United States, that 50 million (ish) users is tiny compared to the rest of the world.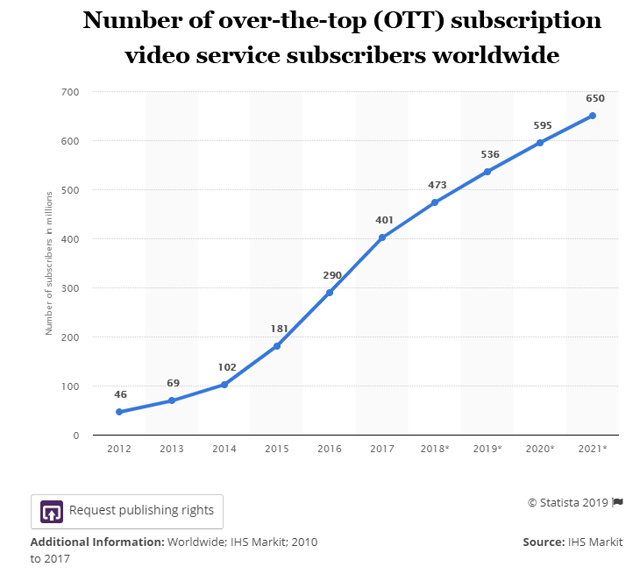 (Source: Statista)
Strategy Analytics notes that more than one in five Smart TVs sold today run on the Samsung (OTC:SSNLF) developed Tizen platform, while one in ten runs on the Google-managed Android TV system. Roku TV captured 4% of global TV sales in 2018.
In its letter to shareholders, Roku said:
Streaming is a global opportunity, and we continue to see great promise for Roku, as we expand our reach in international markets.
While we are still in early days, we believe the strengths that have made Roku the No. 1 streaming platform in the U.S. by hours streamed will enable Roku to be successful internationally as we drive scale, build engagement, and begin to monetize in international markets.
Roku now moved to the UK with its partnership with Hisense late last year.
Just last month, Roku announced its entry into Brazil.
In 2019, Roku also saw strong demand for Roku devices in Mexico and achieved the strongest sales in its history in that market.
The company is clearly opening a business in Brazil if you look at the job postings. There are more than half a billion more users to go get, with the leading operating system and more TV manufacturer partnerships than all other competitors combined times three.
And, surprise (!), on January 21, 2020, Roku announced, officially, that it was expanding to Brazil.
Please follow and like us: